This season we're getting creative with scarves, because who doesn't like to switch it up now and then? Yes, your silky number looks great around your neck, but take it to your tresses or trusty tote bag and you've got a look that belongs on your Instagram feed. Press play on the new ways to wear your printed scarf and prepare to be inspired.
1. Hear Me Roar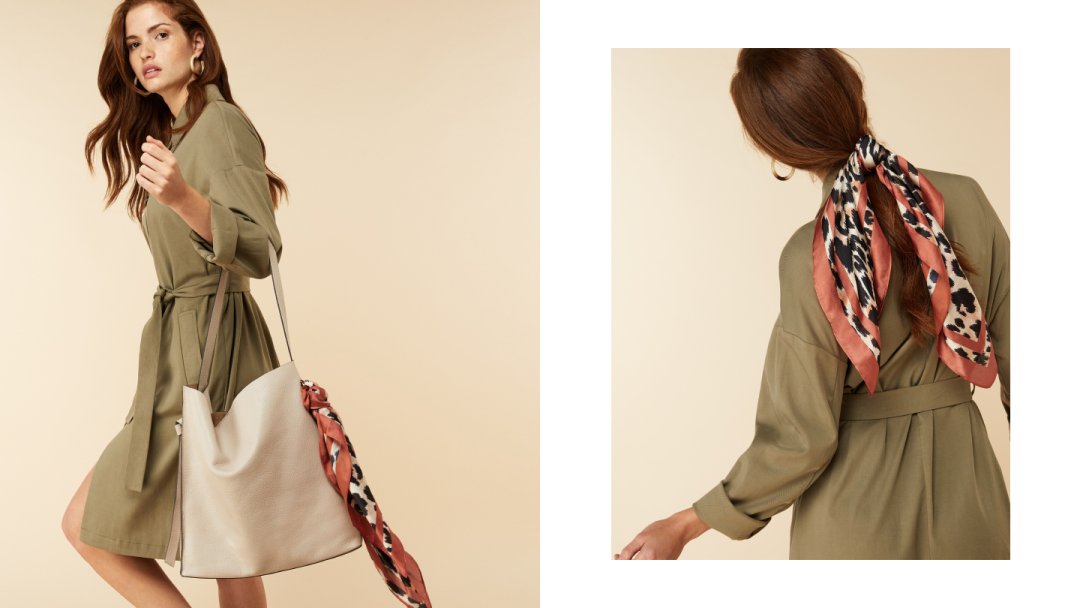 If the season's all-out leopard looks are a bit too Scary Spice for your taste, tame the wildness with a printed scarf. A neutral-toned handbag is the perfect canvas for a dash of animal spots – knot your scarf around the hardware to make it feel brand new. Or to get the look that we're seeing everywhere right now, sweep your hair into a low ponytail and trade out your scrunchie for a tumbling scarf. Hoops are a must to finish.
2. Flower Power 2.0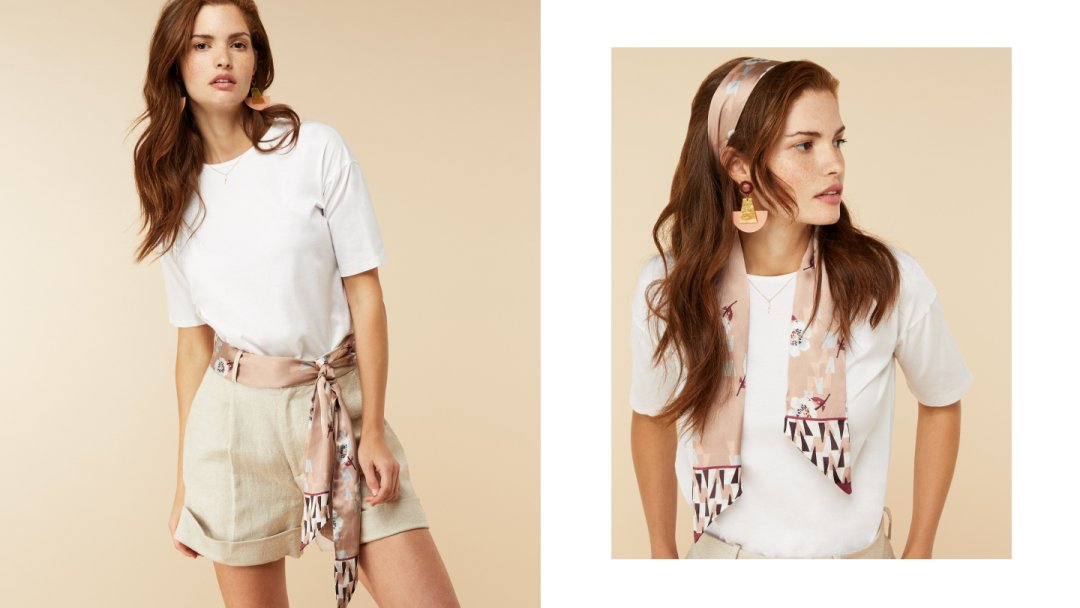 There's not much from '70s fashion that we haven't got our hands on in the past few seasons: it's having more than just a moment. The skinny scarf is no exception, though what makes it more haute than hippy is how you wear it. Reinvent your staple shorts by threading it through the belt loops, or tie it round your head and secure at the nape of the neck for a pretty hairband effect. The resin jewellery trend is perfect for picking out the scarf's colours.
3. Rockabilly Baby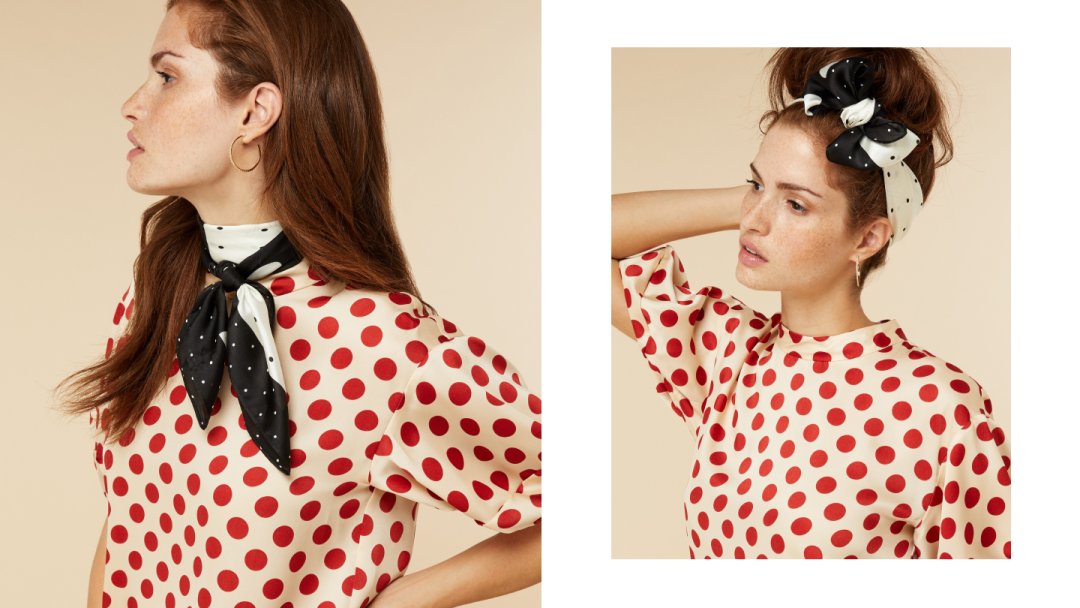 Be a retro darling with a polka-dot neckerchief. Black and white is your easiest colourway when it comes to styling – and keeps the look feeling ultra-modern. Tie it around your neck for a flirty fifties feel, or roll it into a narrow strip and tie into a headband. We love this look with a messy bun.
4. Swathes of Silk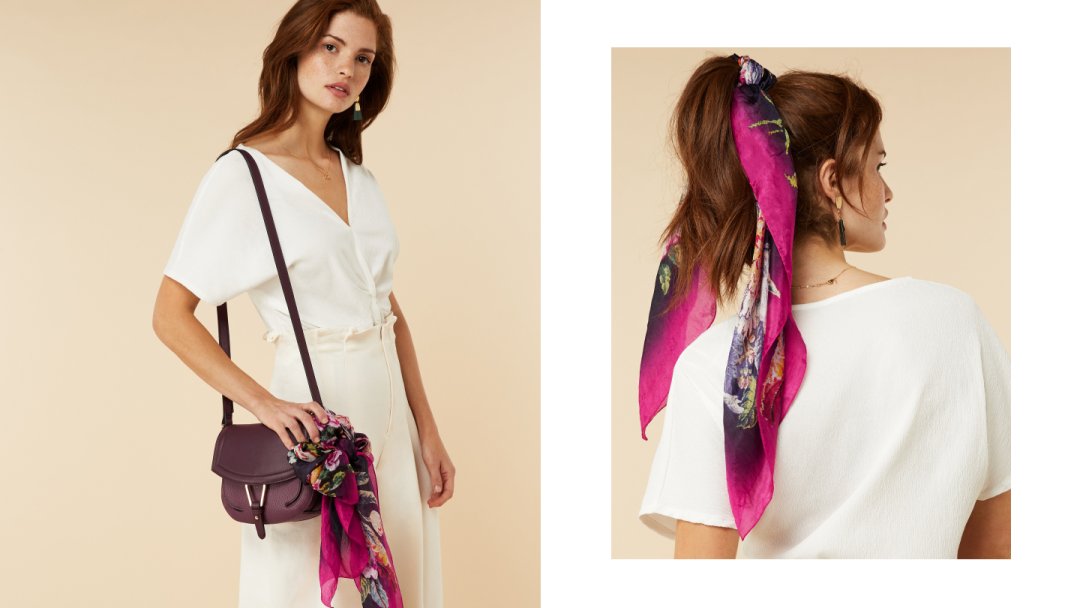 Take the look to the next level with a scarf made of pure silk. Something with this much luxe appeal is perfect for showing off on your favourite cross-body, tied in a bow for a bunched effect. Our floral print looks so good with the season's burgundy bags, for the record. Doubling as the ultimate fix for a bad hair day, this liquid-soft style also ties effortlessly around a high ponytail to achieve the need-now hair scarf trend.
Read More
10 Leopard Print Buys to Lust Over
3 Resin Earrings We Can't Stop Thinking About
Introducing the New Pre-Fall Collection