Your diary is likely stacking up with places to be and people to see. After all, party season is upon us.
It can become tiresome finding new things to wear, which is why the perfect accessory can make an outfit (and a night). To make your choice a little easier, we've found the perfect look for you depending on your star sign. So, whether you read your star sign every so often or religiously live your life dependent on your sign, see what your pieces will ensure you have a look ready to dance all night.
Capricorn
Capricorns are simple and sophisticated, so their perfect plus one is the Shell Embellished Mini Duffle – it's practical and oh-so-pretty. Pair it with the Clip on Billie Statement Drop Earrings for a polished party look.
Aquarius
Trendy, quirky and a lover of statement pieces, the Aquarius party-goer is ready for the spotlight with the Natalie Gem Collar Necklace. They'll let their sparkly side shine with the Rosie Embellished Clutch Bag.  
Pisces
Free-spirited and a hopeless romantic, you can count on a Pisces to pick the best music at every party. Their party-look tends to be whimsical yet still on-trend, so the Diamante Glitter Hardcase Clutch Bag and Velvet Bead Wide Knot Alice Band are perfect.
Aries
A firey sign, Aries are known for their bold personality. So, what better than the Snake Foldover Clutch paired with some shimmering bracelets like the Cupchain Bead Stretch Bracelets – the more the better.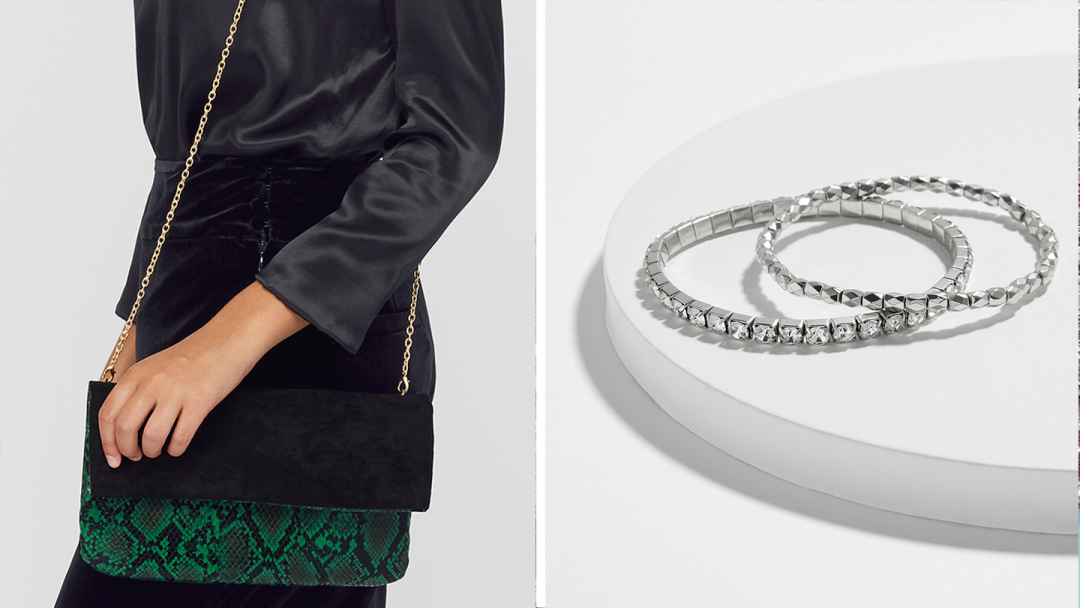 Taurus
Taurus are likely to sparkle brighter than the disco ball at any and every party, so it's no surprise their favourite accessories are adorned with sparkle, sparkle and more sparkle, like the Reece Rainbow Sequinned Clutch Bag and the Billie Statement Drop Earrings.
Gemini
Everything is better in twos where Gemini is concerned. Aptly symbolised by celestial twins, double up the glam with the Rectangle Sparkle Hair Clips, worn together, of course. Turn up the sparkle with the Sparkle Foldover Clutch.
Cancer
Another sophisticated sign, Cancer loves feminine and soft silhouettes and shapes and love an elegant wrap, like the All Over Metalic Stole. They're also all over the pearl trend, of course, think the Pearl Collar Necklace.
Leo
Incredibly passionate and fans of all things bold and brilliant, Leos are the first at the party and the last on the dance floor. They love a bag as bold as them, like the Freya Crystal Drop Ring Handle Clutch Bag and the Leopard Foldover Clutch.
Virgo
There's nothing a Virgo loves more than finding the perfectly polished finishing touch, the prettier the better. Needless to say you'll see them finishing off every look with the perfect hairband, like the Flower Gem Alice Hair Band. Add some extra sparkle with the Georgia Holographic Leather Quilted Bag.
Libra
All about balance, Libra will party hard but be in bed in time to get 8 hours sleep. Their party style is also the perfect balance of edgy and feminine, like the Cassie Pearl Collar Necklace and the Embellished Cocktail Scarf.
Scorpio
For a Scorpio, it's all or nothing. So it's no surprise they are lovers of the crystal drenching trend – think more is more like layering the Blue Stone Ornate Cocktail Ring and Marilyn Crystal Deco Cocktail Ring. Also, mix and match with the Kylie Clip on Short Drop Earrings and the Rave Behave Slinky Drop Earrings.
Sagittarius
You'll see these folk at every party – chances are they've ticked off all the main festivals this year, as well. They live large, in style, and need something that will take them from one party to another, like Faux Fur Tippet paired with the oh-so-sparkly Chainmail Zip Top Clutch Bag.
_______________